Reopening? Already Opened? Need a plan?




Modern Facilities Services has you covered!
MODERN FACILITIES SERVICES, A NJ-BASED FACILITY MANAGEMENT AND CLEANING SERVICE WHICH HAS BEEN SERVICING CRITICAL INFRASTRUCTURE FOR NJ AND NY FOR OVER 39 YEARS! WE CLEAN AND DISINFECT MILLIONS OF SQUARE FEET A DAY.
Solutions for Office Environments
Office Facilities of all kinds are in critical need of pro-active measures which can add to the safety and well-being of their tenants, visitors, management staff, and their families back home. From cubicles to conference rooms to restrooms, Modern's Comprehensive CLEANING STRATEGY PLAN can be the preventative measure that makes a difference.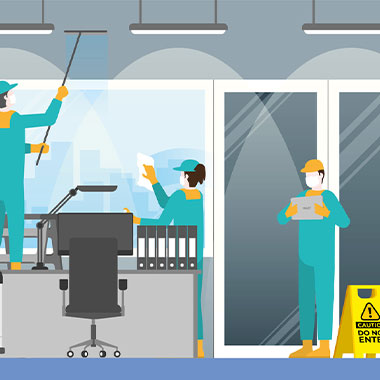 STEP 1
Regular weekly cleaning service at the frequency you request. We recommend a minimum of 2 times per week. Our highly trained technicians will do a thorough cleanly of your facilities. We will clean and disinfect all surfaces.
STEP 2
Monthly disinfecting and applying our antimicrobial shielding utilizing our specialized electrostatic sprayers assure that all surfaces are completely enveloped with antimicrobial shielding. We have been proven to kill Covid-19 and 90 other pathogens and are proven to be fully effective for a minimum of 30-days. It's not enough to disinfect. You need to "disinfect then protect." Without antimicrobial shielding, one minute after someone touches a surface, and it is contaminated.
STEP 3
Strategically place signs and messaging through out your facility with QR CODES explaining the treatments and the length the company has gone through to protect its staff. Along with strategically place hand sanitizers stations with our specialized hand sanitizer that protects your hand with an antimicrobial shield for 8 hours.
STEP 4
Federal state CDC and OSHA assistance on all regulations. We will assure your office is complying with all directives along with emailing you any updates and provide you with the forms necessary. We will make sure you are complying in order to avoid any liability.
SCHEDULE YOUR FREE CONSULTATION
How Antimicrobial Shielding Works
What is Necessary for the Fight Against Microbes is a Product that Continues to Keep Working Every Minute of Every Day. This is where Moderns EPA registered independently tested Antimicrobial shielding comes to play. By enveloping the surface 360 degrees, the antimicrobial shield creates an invisible, odorless, safe shield of microbial spikes that kill all virus cell walls on contact assuring no pathogens can live on the surface.
Shielding lasts a minimum of 30 days.